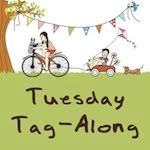 Sometimes I sit back and reflect on my life and how different it is now that my Little Guy is here. I knew it would be different - don't get me wrong - I've spent quite my share of time with kids over the years. But I don't think I quite understood the extent to which it would change.
I only leave the house after the first nap - never before, unless it is for church or an appointment.

I can only go to 2 or 3 stores before he's worn out - no more power shopping.

I've actually taken a nap in the car in my driveway because he was asleep and I didn't want to wake him.

I am ALWAYS home by 7:30 pm or have a babysitter because his bedtime is at 8pm.

I only go places that have drive-thrus - drive-thru Starbucks, drive-thru banking, drive through food... I actually get annoyed when I have to get out of my car to get something.

Forget meeting a friend for coffee or lunch... wiggly boy starts wandering around the place talking to the other customers...
Okay... well... this is only a small sampling, but you get the idea. My kid needs a ton of sleep and if we miss naptime or bedtime, it's a huge deal. So... our lives basically run by those times or we stay home. I really want to go shopping... like for real shopping. =)
Oops! I think he's awake in the other room.... got to go!